Cotton Lavender 'Lemon Fizz'
Santolina chamaecyparissus 'Lemon Fizz'
Height:
30 - 45 cm (12 - 18in)
Suitable for:
Sun or part shade in a free draining compost or soil. Tubs and containers.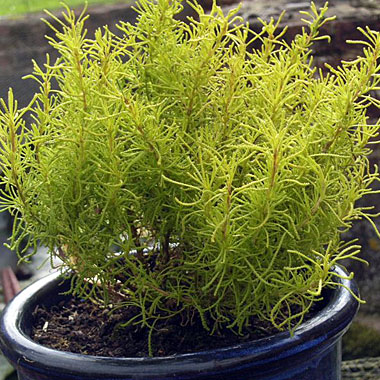 Cotton lavender is well known to herb growers, an effective and colourful plant, but this new introduction is really dramatic. This eye-catching shrub shimmers with colour - an acid lemon yellow is the best description. The foliage is finer than the standard cotton lavender, thread like and tightly growing giving a well shaped plant.

It is suitable for planting in the border in a group or in containers, either alone or as a mix with other patio plants. A group in the border will make a exciting focal point to the planting especially teamed up with purple leaved plants such as purple sage or some of the darker flowering lavenders such as Hidcote. We have had some planted up in blue terracotta pots and they have looked spectacular outside our glasshouse throughout the whole of last summer, autumn and on throughout the winter months.

In a sunny position they positively fizz with colour even on a cold winters day. A must for this spring's planting!