Marshmallow
Althaea officinalis
Height:
Up to 1.2m (4ft)
Suitable for:
A sunny and moist or wet situation.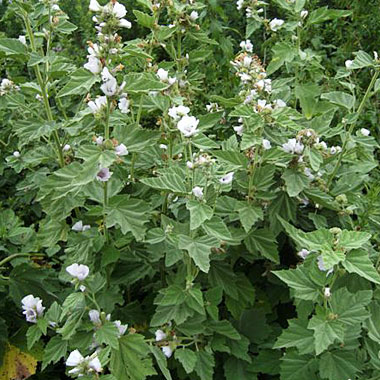 Marshmallow is a beautiful tall garden herb which is covered in pink flowers in summer rather like a smaller version of Lavatera. Yes, the sweets were originally made from this perennial plant, prepared from the roots which are particularly mucilaginous!

More Info:
Marshmallow is an extremely attractive herb, useful as it can be grown in moist to waterlogged soils. It has lovely downy grey-green leaves and robust upright stems. Masses of pale pink flowers, up to 4cm (1 ½ in) across are produced throughout the summer months, making this a really beautiful addition to any garden. Its close relations are the familiar Hollyhock and Hibiscus.

All parts of the plant are edible. The young tops and flowers can be served in salads. The roots were used to make the original marshmallow sweets. The roots are very thick and long, and can be served peeled and boiled, then sautéed with chopped onions in some butter.

The medicinal properties were first recorded in the 9th century BC and the herb was widely used in Greek medicine. Medicinally the plant is very useful as it has a high mucilage content making it beneficial for the soothing of coughs and bronchitis and also as a poultice to combat bacterial infections. Peeled roots were given to children to chew on as a teething aid.