Thyme Hartington Silver (Highland Cream)
Thymus 'Hartington Silver'
Height:
Up to 5 cm
Suitable for:
Well drained sunny position. Paths, rockeries and containers.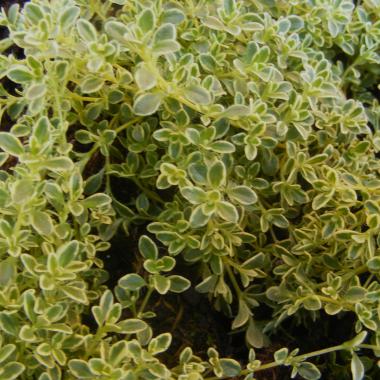 Creeping thymes are increasing in popularity each year, so it is good to be able to introduce to our range such an attractive new variety.

Thyme Hartington Silver is a dainty looking and slower growing thyme with pale green, cream edged leaves. It is a perennial, evergreen herb so you will have a dense mat of colourful foliage to brighten your garden throughout the year, and in summer a bonus of lots of pale pink flowers for the bees and butterflies to enjoy.

Like all thymes, its Mediterranean origin means that it prefers a sunny spot in well drained soil. It looks great planted in cracks in paths and paving, gives colour in gravelled areas and trailing over rockeries and banks.

It also makes an attractive specimen planted in containers, but do bear in mind that it is quite slow growing compared to other some herbs and can quickly be swamped by more vigorous varieties.

The bright foliage of this thyme looks good when planted with other contrasting creeping thymes. It combines well with the green bronze foliage of creeping red thyme and the bright green leaves of white thyme, and of course you have the contrasting flower colours to add to this as well.

If trimmed back immediately after flowering, quite often there will be more flowers by early autumn, and this also keeps the plant neat and compact.