About Manor Farm Herbs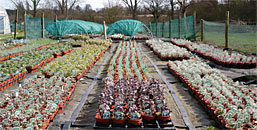 Manor Farm Herbs (a trading name of Miss J E Petry and Mr D E Longstaff) is a family business based in rural North Oxfordshire.
Established for 21 years as specialist herb growers, at present we supply well-grown herb plants to garden centres, nurseries, landscapers and stately homes throughout four counties. We hope that you will find our web site to be full of information about herb growing and all their uses, and that it will give you the opportunity to buy healthy herbs direct from the grower.
All of our herbs are grown here on site and are raised under a 'conservationist regime'. This means that we rely entirely on biological control of any pests and diseases, and no chemicals are sprayed onto our herbs at all.
The majority of the herbs that we sell are culinary, and we believe that it is far more beneficial to the plants, and also to our own health, if chemical sprays are avoided on food crops where at all possible. All of our herbs are grown in peat reduced compost.
If you have any questions or queries, either about the herbs or the web site, please do contact us by whichever method you prefer. You may also join our free mailing list.
As a small family business we pride ourselves on personal service and will do our best to answer all queries, however small.