Welcome to 'Just beyond the herb garden'
Welcome to 'Just beyond the herb garden'
Polemonium
'Brise d'Anjou'
Welcome to 'Just beyond the herb garden', our online shop featuring a range of attractive flowering perennials, all with herby associations.
Perennials with colourful flowers are great to mix with your herbs, giving colour and impact to leafy herb beds and also perfect for growing in containers and in your flower borders to give a summer of colour.
We have a carefully chosen range of perennial plants, all that little bit unusual, selected for their attractive flowers and foliage. Many will attract pollinators such as bees and butterflies to your garden as well.
Try planting gorgeous Geums or lovely Lamium, or look at our Polemonium 'Brise d'Anjou' for amazing foliage which will give an impressive splash of colour wherever it is planted.
Our shopping basket is run through PayPal. When adding a plant to your basket PayPal will bring up their shopping basket window, giving you the option to select how many of that particular product you want.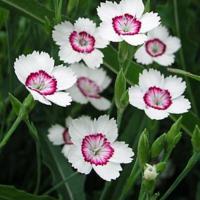 Dianthus deltoides
'Arctic Fire'
We have found that clicking back on our web site puts the PayPal window behind, making the whole process quicker for your next purchase!
Our packaging is designed in three's so a minimum order is for 3 plants, click here for more information.
All of our prices include postage and specialist packaging. Therefore there will be no surprises when you come to checkout and pay for your herbs.
If you would rather not order online please use our downloadable order form and post it to us with a cheque.