Alpine Strawberry 'White Soul'
Fragaria vesca 'White Soul'
Height:
15 cm (6 in)
Suitable for:
Moist soil in sun or partial shade. Ideal for containers and as an edging.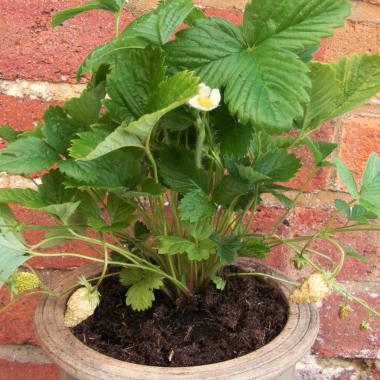 White strawberries are unusual and a real talking point, especially when they are as sweet and aromatic as these.

The plants are tolerant of most soils, but do best in rich, moist garden soils with at least 6 hours of sun each day. They can be planted as an edge to a border or potager and also do well planted in containers. Unlike most varieties of strawberry they are runner-less so are a great choice in mixed plantings as each plants stays as a single clump and does not spread. Although the foliage is evergreen, the old leaves tend to get a bit tatty by autumn, this is time for a hard trim leaving just the crown of the plant to produce new foliage and then flowers at the start of the next season.

Alpine Strawberry 'White Soul' flowers from June through until the autumn, producing a succession of white aromatic fruit. The birds seem less attracted to these white strawberries — although we have yet to put this to a scientific test! The fruits are slightly smaller than the red but equally sweet and juicy with slight overtones of pineapple flavour.

White strawberries are very versatile, and can be used in place of the red variety in any recipe. They can be eaten fresh or cooked, and used in frozen desserts and in drinks.

They pair well with:
citrus fruits, pineapple and watermelon;
vanilla, yogurt and cream
savoury ingredients such as cheese – feta, goats cheese
and blue varieties, also bacon, and surprisingly chillies
other herbs such as mint, lavender, lemon verbena
and basil in many different combinations.
On a recent trip to Porto one of the regional favourites was a white wine sangria, just as delicious as the red one and great to sit in the sun with, relaxing on a sunny afternoon or a warm evening
White Strawberry Sangria with a touch of pink!
Serves 4 – 6

2 sliced lemons
1 thinly sliced eating apple
150 g white strawberries — sliced in half lengthways
750 ml of dry white wine — Sauvignon Blanc is good
200 ml white rum
2 tbs sugar
To serve:
Sparkling lemonade — chilled
A handful of redcurrants — or you can use raspberries if unavailable
Put all of the sliced fruit and sugar into a large bowl and pour over the wine and rum.
Stir gently to dissolve the sugar then cover and chill in the fridge for at least 4 hours
for the flavours to mingle, or longer if you can wait!

The sangria looks lovely in large bowl shaped wine glasses, but tastes great however you serve it.

Divide the redcurrants between the glasses and strain over the chilled wine mixture. With a spoon remove the strawberries left in the bowl and add to sangria glasses, leaving the apple and lemon slices behind.

Top up each glass with ice cubes and lemonade to taste — or the sangria tastes equally good neat but remember it has quite a kick from the rum!

For a special occasion, try substituting a bottle of white port for the white wine, you may need a little less sugar in this case, depending on the sweetness of the port.
Whilst doing a bit of research for this info interesting facts often come to light. For the scientific amongst you: normal strawberries contain a special protein which cause them to redden when they become ripe. In white and yellow varieties this protein is absent hence the lack of red colour.