Angelica
Angelica archangelica
Height:
2 - 3 m (6 - 8 ft)
Suitable for:
Moist rich soil, in partial shade and full sun.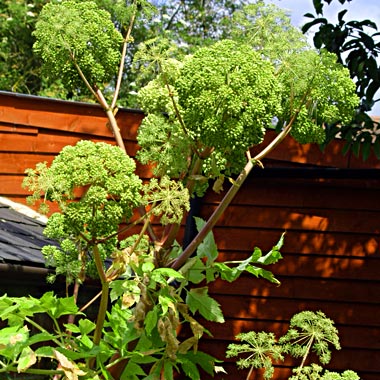 This herb is a striking architectural addition to any border. Its first year's growth is a wealth of shiny green foliage, followed in the second or third year by a tall, branching flowering spire topped with lots of creamy white flowerheads and then large green seeds. It will happily self seed for future years.

This is a well-known culinary herb with the candied stems being used to decorate cakes and puddings. The stems can also be added to sour or bitter fruits such as rhubarb and used in the making of marmalade. The addition of the chopped stems, either fresh or candied, reduces the amount of sugar needed.

The leaves can be eaten as a green vegetable, the use of the foliage is often found in Scandinavian recipes as angelica grows quite prolifically in the wild there.
1 tbls of chopped leaves will enhance any fish dish.
The younger stalks can be blanched in boiling water for one minute and then finely chopped and added to salads.
The seeds when harvested must be planted immediately for good germination and are also often used to flavour liqueurs.

The term 'angelic herb' comes from the belief that it will cure all ills and protect from evil.