Hyssop
Hyssopus officinalis
Height:
Up to 60cm (2ft)
Suitable for:
Light well drained soil in full sun.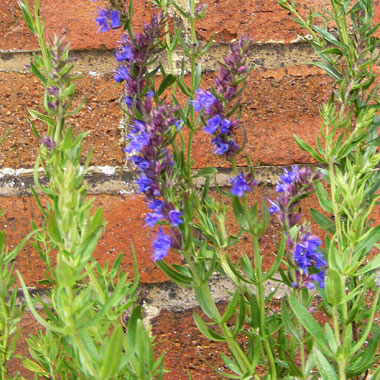 This is a much underrated herb resembles a green lavender in shape and will clip into a delightful low hedge. The foliage releases a strong sage/mint aroma and flavour.

As a late flowering herb it is of great value both in the border and the herb garden, and the brightly coloured flowers attract lots of butterflies and bees. It looks particularly fine grown with catmint, backed by rosemary and lavender.

Hyssop is a very versatile herb in the kitchen, its savoury taste making it a perfect addition to soups, stews and lamb dishes. It also adds flavour to fruit tarts and pies.
Crunchy Coleslaw Salad with Hyssop
1 small white cabbage – finely shredded
1 small cauliflower – divided into tiny florets
2 red onions – halved and thinly sliced
125 g cooked broad beans
4 tbs young hyssop leaves - chopped
6 tbs mayonnaise
salt and fresh ground black pepper
hyssop flowers to decorate
Mix together all the salad ingredients and serve in an attractive bowl garnished with sprigs of hyssop flowers.
Both the flowers and leaves can be added to pot pourri and are an ingredient of liqueurs such as Chartreuse.

Hyssop was in the past a popular herbal remedy both made into a tea and as an infusion to relieve a variety of symptoms such as rheumatism, upset stomachs and catarrh. The boiled leaves and stems were used in wrappings around rheumatic joints and on bruises.