Cotton Lavender
Santolina chamaecyparissus
Height:
45cm (18in)
Suitable for:
Sandy soil in a sunny position.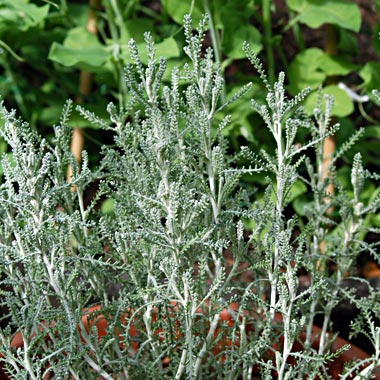 Cotton lavender has been popular since the 16th Century and the leaves have a chamomile like aroma. The dried foliage is used to blend in herbal tobaccos, and both leaves and flowers are a favourite in pot pourri.
If planted at 20cm spacing, in a staggered row, cotton lavender will clip into a neat hedge and has been used in knot gardens and to edge borders for centuries.
Dried cotton lavender leaves are a successful moth deterrent.
Cut 10cm squares of muslin or cotton material and place 1tbs of the dried herb in the centre along with 1 tsp. crushed cinnamon stick to act as preservative.

Tie up with ribbon to make the moth bags.

Herbal mixtures can be used in the bags by adding equal quantities of dried mint, lavender, sage, rosemary or thyme leaves to the cotton lavender.
In medieval times cotton lavender had medicinal uses as a remedy for poisonous bites and internal parasites.