Hedge Germander
Teucrium divaricatum
Height:
30 - 60cm (1 - 2ft)
Suitable for:
Any soil in a sunny spot. Ideal for hedging and containers.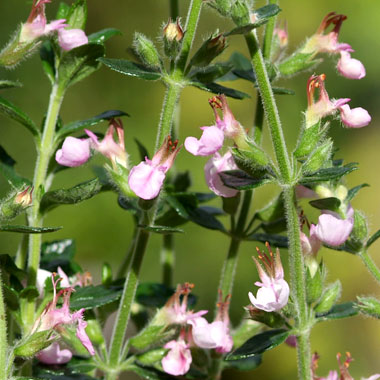 Hedge Germander is a small perennial evergreen shrub with glossy green leaves and spires of deep pink flowers in June and July. It makes a good edging plant that can be trimmed to form a low evergreen hedge.

Germander is a very useful little perennial shrub with shiny dark green leaves and rose pink flowers in summer. As the name implies it can be planted as a dwarf hedge edging borders, herb beds and knot gardens.

The leaves are shaped like tiny oak leaves only a much darker green and more leathery in texture. Hedge germander should not be confused with the low growing and spreading wall germander, Teucrium chaemaedrys, which is the variety used for medicinal purposes.