Basil Mint
Mentha x piperata citrata 'Basil'
Height:
Up to 60cm (2ft)
Suitable for:
Moist soil, partial shade.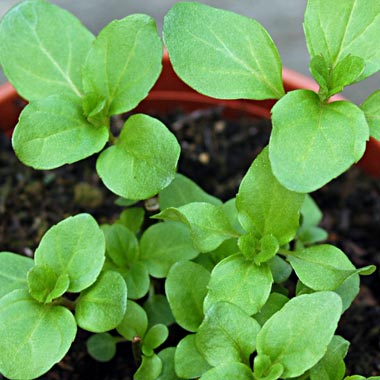 Basil mint has smooth round bright green leaves with a juicy taste of mint and basil mixed.

This is a useful herb for spring use as it can be used as an alternative in all your favourite basil recipes until fresh basil is growing strongly in May.
Red Rice Salad
350 g red rice
2 cloves of garlic – finely chopped
1 cup of chopped basil mint
3 tbs olive oil
salt and freshly ground black pepper.
sliced olives and mint sprigs to garnish.
Simmer the rice in plenty of boiling water for 25 minutes then leave to stand for a further 15 minutes.

Meanwhile heat the oil in a small pan and add the garlic and fry gently but do not allow to brown, stir in the mint and leave to infuse off the heat.

Drain the rice and stir in the herb mixture and season to taste.

Serve warm or cold, garnished with the olives and mint leaves. This is a good accompaniment to grilled chicken, kebabs or grilled halloumi cheese, the recipe for which can be found within Main Courses.