Chocolate Peppermint
Mentha x piperata 'Chocolate'
Height:
Up to 60cm (2ft)
Suitable for:
Rich moist soil in sun or partial shade.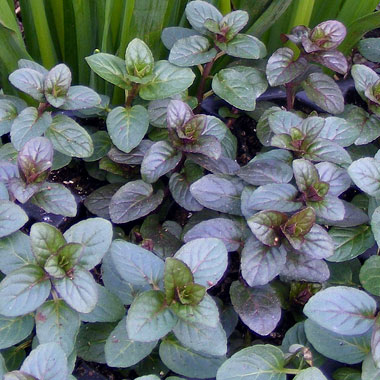 Chocolate peppermint is a favourite mint with many herb enthusiasts, the peppermint scent and taste is overlaid with a hint of chocolate, think 'After Eights'!

The foliage is particularly attractive, the leaves are a dark green with a bronzy hue. Like many mints it spreads rapidly by runners and if there is a danger of it becoming invasive it is best grown in a container and kept evenly moist either in sun or partial shade.

Peppermint is one of the world's most popular flavours and it has a multitude of culinary uses especially in puddings, drinks and teas. In addition the finely chopped leaves enhance the flavour of many chocolate recipes such as cakes, ice-cream and mousse. The leaves of chocolate peppermint can be infused to make a fine herb tea, and very finely chopped can be stirred into hot chocolate drinks to taste.

Mexican cuisine uses bitter chocolate in some of its traditional dishes, and finely chopped chocolate peppermint will add extra piquancy to dishes like chilli con carne.
Mole Pollo
(Chicken with a chocolate sauce – serves 4)
8 chicken thighs – skinned
2 tsp olive oil
½ tsp ground cumin
For the sauce:
1 tsp olive oil
1 tsp cinnamon
1 large onion, finely chopped
2 red chillies, chopped
125 g ground almonds
(adjust quantity to taste)
3 large tomatoes, chopped
500 ml chicken stock
2 small tortillas, crumbled finely
75 g high cocoa plain chocolate
50 g sultanas
2 heaped tbs chocolate peppermint
– finely chopped
Preheat the oven to 180C, 350F or Gas Mark 4.

Place the chicken thighs into a baking dish and drizzle with the oil, sprinkle over the cumin and bake in the oven for 45 minutes, cover with a little foil for the first 30 minutes to keep the chicken from becoming too brown.

Meanwhile make the sauce. Heat the oil in a medium pan and soften the onion. Add the almonds, tomatoes, sultanas, tortillas, cinnamon and chillies and continue to cook for a further 10 minutes.

Pour in the chicken stock and simmer for 5 minutes more. Using a blender, puree to give a smooth sauce.

Return the sauce to the heat, stir in the chocolate and 1½ tbs of the mint, and stir until the sauce is thick.

Pour a little of the sauce over the chicken and sprinkle with the remaining mint. Serve with brown rice and the rest of the sauce.
Medically, like all peppermints, it is a strongly aromatic decongestant herb which relieves spasms, increases perspiration, improves digestion and has a general antiseptic and mild anaesthetic effect.