Spearmint - Garden Mint
Mentha spicata
Height:
60cm (2ft)
Suitable for:
Rich moist soil in partial shade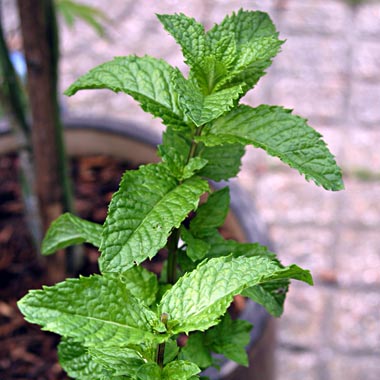 The form of garden mint that we grow has taken part in trials for flavour, aroma and growth habit. It scored most highly in all of these and has the added advantage that it is resistant to the fungal disease mint rust.

Garden mint has many culinary uses. For instance with new potatoes and peas, and in tzatziki (Eastern Europe), tabbouleh (Middle East) and in many drinks. Instead of serving vinegary mint sauce with lamb, why not stuff a boned joint with a bunch of garden mint or mix chopped mint with garlic and breadcrumbs to make a mint crust before roasting.
Cacik
This is a Turkish form of tzatziki popular over all over the near and far East.
1 large cucumber
1 tsp salt
4 – 6 cloves of garlic
½ litre of thick natural yoghurt
4 heaped tbls chopped garden mint
Freshly ground black pepper
Peel the cucumber and cut into small dice. Sprinkle with the salt and leave in a colander for 1 hour to drain. Wash well and squeeze to remove the moisture with kitchen paper.

Crush the garlic with a pinch of salt in a pestle and mortar and add to the yoghurt with plenty of black pepper and the chopped mint leaves.

Mix in the cucumber just before serving.

Serve with pitta breads or as a sauce with kebabs or grilled lamb.