Moroccan Mint
Mentha spicata
Height:
60cm (2ft)
Suitable for:
Moist soil, partial shade.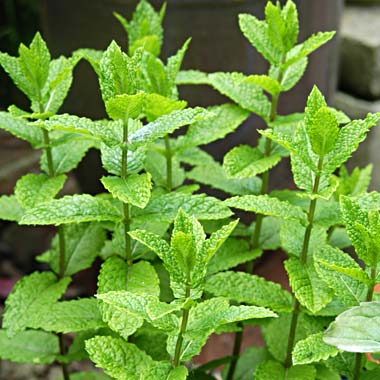 Moroccan mint has white or lilac flowers and a sweet spearmint fragrance and taste. It spreads by runners and so needs to be confined when planted. It is suitable for container growing but should be planted alone as it will swamp other plants.

It can be used in the kitchen in the same way as any garden mint or spearmint. For instance with new potatoes and peas, and in tzatziki (Eastern Europe), tabbouleh (Middle East) and in many drinks.

The Moroccan variety has a particularly fine flavour and is grown in North Africa especially for tea.
Moroccan Mint Tea
2 tsp china tea
6 tsp Moroccan mint – chopped
900 ml boiling water.
Spoon the tea and mint into a large warmed teapot. Pour on boiling water and leave to infuse for 5 minutes.

Strain into glasses or delicate cups and sweeten to taste, serve garnished with a whole mint leaf.

The tea maybe strained and chilled, and stored in the fridge, to serve as iced mint tea. In this case sweeten to taste whilst still hot.