Oregano Country Cream
Oreganum vulgare 'Country Cream'
Height:
40cm (15in)
Suitable for:
Sunny position with well drained soil. Pots & tubs.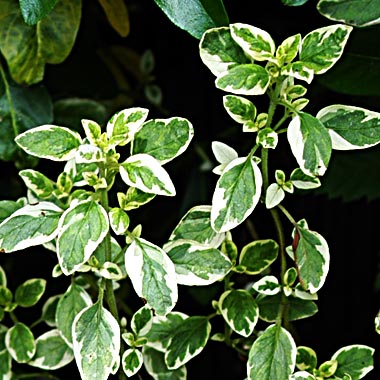 Oregano Country Cream is a bushy herb producing mounds of cream and green foliage all through the year. When it blooms, the pale pink flowers attract lots of bees and butterflies. Like all the Oreganums it is easy to grow in most situations, the only condition it really dislikes is damp cold soil.

It is a very striking herb when planted in rockeries or borders and is useful as an informal edging plant. It is also very suitable for planting in mixed containers, where its leaves and flowers give a lovely splash of colour.

The flavour, when used in cooking, is particularly strong and it has all the usual oregano culinary uses. The taste is warm and aromatic and it is an important addition to Italian, Greek and Mexican cuisine. It especially improves dishes containing garlic, chilli and tomatoes, and is used extensively in spaghetti bolognaise and other pasta dishes, pizza, moussaka and aubergine and all tomato dishes. It retains its flavour well when dried and is often used in this form particularly in the winter months.

Oregano Country Cream can be used in all recipes calling for green oregano or wild marjoram.