Sage
Salvia officinalis
Height:
60cm (2ft)
Suitable for:
A sunny spot in light dry soil.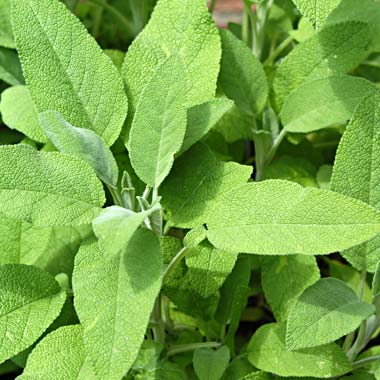 This indispensable herb grows as a hardy shrub, with leaves that can be picked throughout the year. Although some chefs prefer to use it dry occasionally, as it can then be crumbled to a powder.

Sage is best known for its use in stuffings to accompany pork and poultry. It is also found in a variety of other savoury dishes such as sausages and sage derby cheese. It has a particularly strong flavour and should be used with caution as its powerful flavour can be bitter if used to excess.
Sage Bread
Another of the teatime treats that we serve during our talks and tours of the nursery is Sage Bread spread with soft cheese.

Add 3 tablespoons of chopped sage leaves to your favourite bread recipe, granary bread is our favourite. Knead into the bread dough and rise and bake in the usual way, or add to the bread machine at the 'beep' near the end of the kneading cycle.

This is a lovely savoury bread that only needs fresh butter or soft cheese spread onto it.
Sage also has a number of medicinal and cosmetic uses. Hot sage tea can be brewed and drunk as a tonic, and it also makes a good mouthwash and hair conditioner.

In fact Salvia means 'to heal' or 'to save', and is said to cure all manner of diseases and prolong life in general.