Creeping white thyme
Thymus serpyllum 'Albus'
Height:
5cm x 30cm (2in x 12in)
Suitable for:
Sunny well drained spot. Containers, rockeries and paths.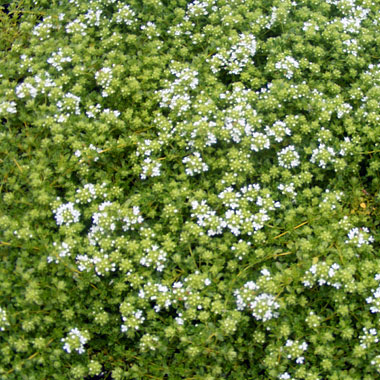 White flowered thyme is an extremely prostrate thyme, which forms a dense mat of tiny bright green leaves. The foliage is a brilliant foil for the abundant white flowers which appear in June.

If trimmed back immediately after flowering there will be more flowers by late summer.

Creeping thymes generally have red or pink flowers so the white flowers of this cultivar make a lovely contrast when included in a mixed planting on a path or gravelled area.

In common with all thymes they are ideal for tubs and containers placed in a hot dry sunny spot.