Caraway Thyme
Thymus herba barona
Height:
7cm max. (3in)
Suitable for:
Sunny well drained spot. Containers, rockeries and paths.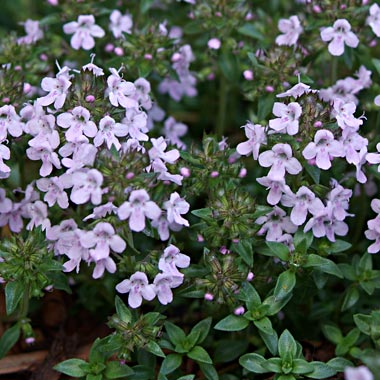 Caraway thyme is strong growing and wiry. As it is prostrate it is ideal for carpeting the ground as part of a thyme path and between paving stones, it also is good planted in rockeries, creeping over the stones.

Like all thymes it should be trimmed hard after flowering to retain compact growth and to encourage new shoots for the rest of the year. If this is done promptly after flowering the plant will often flower again towards the autumn.

As well as its ornamental uses caraway thyme is an interesting flavour to use in the kitchen. Traditionally, as the Latin name suggests, it was used to flavour a baron of beef. Caraway thyme can be used to flavour any meat dishes and is especially good used alongside lots of wine and garlic.

It can also be used in salads, soups and stuffings, but its strong flavour should be used with caution so as not to overpower the other ingredients.