Thyme 'Doone Valley'
Thymus 'Doone Valley'
Height:
5cm x 40cm (2in x 15in)
Suitable for:
Sunny well drained spot. Containers, rockeries and paths.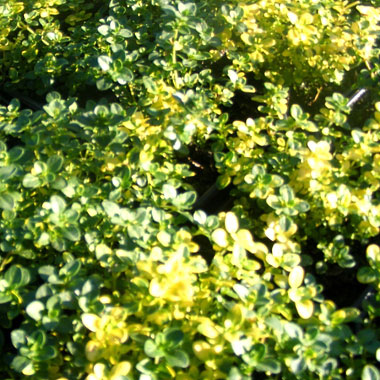 This is a creeping evergreen cultivar with bright gold and green variegated leaves, scented lightly with a lemon fragrance. The foliage is so attractive that the plant can be grown for this reason alone, but as an added bonus there are purple flowers in late June / July.

Outside of the flowering season the foliage of Thyme 'Doone Valley' makes a fine contrast when planted with the green leaved varieties of thyme in a path or lawn.

Whilst very ornamental, this is also a good culinary thyme, (albeit time consuming to pick!) with a fruity lemon flavour to be used with poultry, fish and desserts.