Rose scented thyme
Thymus spp. 'Rose scented'
Height:
Approx. up to 25cm
Suitable for:
Any sunny location in dry, well drained soil. Ideal for pots and containers.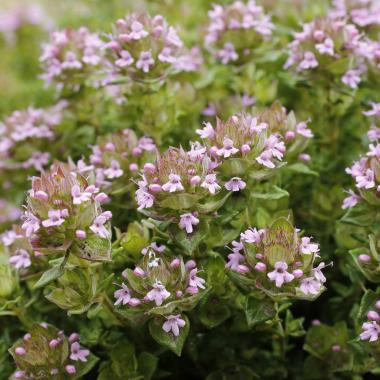 This is a brand new thyme for us which we have never grown before.

Information on the web is very scant with only one mention in the US by a gentleman who really praises it highly. So a really unusual variety and one to experiment with!

One thing to be certain of is that it will require the same growing conditions as all other thymes. A sunny spot is required, in a dry, well drained soil without lots of added fertiliser. The rose scented thyme will combine well with other thymes, rosemary etc in a herb garden, and also grow well in gravel and rock garden areas and create a fine display in mixed containers.

Try making a rose scented thyme tea, the foliage and flowers should combine to make an infusion that not only tastes good but includes all the benefits of thyme oil — soothing to stomach and breathing complaints and highly antibacterial.

It would be great to have some feed back on this variety with your growing experiences and any culinary uses.