Thyme 'Silver Posie'
Thymus vulgaris 'Silver Posie'
Height:
30cm (12in)
Suitable for:
Sunny well drained spot. Containers, rockeries and paths.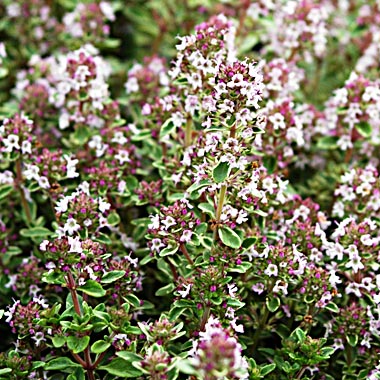 This is a hardy upright thyme growing into a little bush with silver variegated leaves which are tinged with purple beneath. The flowers are pale pink and very attractive to bees and butterflies. Like the lemon variegated thyme its colour intensifies in winter making it very suitable for planting in winter containers with bulbs, as well as the usual dry garden locations and of course the herb garden.

As a compact form of common thyme it is useful in smaller gardens where it can have a dual purpose of both ornamental and culinary uses.

Like all thymes it should be trimmed hard after flowering to ensure lots of new shoots to use in the kitchen and this also keeps the plant neat and compact. If trimming is carried out promptly after flowering, the herb may well bloom again in the autumn.

All the culinary uses for Silver Posie thyme are exactly the same as for common thyme and it can be used as a substitute in any recipes.

Thyme is essential, used in french cuisine and is one of the ingredients of a traditional bouquet garni along with parsley, bay leaves and sometimes rosemary. Thyme is mostly used in marinades, stews and stuffings, but can also in soups, salads and vegetable dishes, but sparingly so that the strong flavour does not overpower. It is particularly good with aubergines, mushrooms, courgettes and mediterranean bean dishes.