Thyme Minimus
Thymus serpyllum 'Minimus'
(Thymus serpyllum 'Minor'
Thymus serpyllum 'Minimalist')
Height:
5cm (2in), spread indefinite.
Suitable for:
Sunny well drained soil, gravel and rocky areas, pots and containers.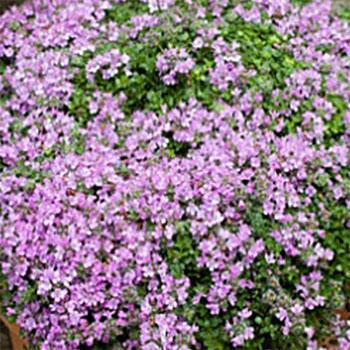 One of our favourite thymes! It is evergreen with a neat compact habit and dainty foliage of minute grey green leaves. The flowers in early summer are a clear pink and studded closely all over the leafy mounds like little pink jewels.

Like the rest of our thymes it prefers a light well drained soil in a sunny position, or a container filled with a well drained compost. It is ideal for small tubs and containers placed in a hot dry sunny spot and also looks lovely when planted in pockets of soil on the top of stone walls where it can be appreciated at eye level.

It is aromatic to the touch and will withstand walking on when planted up on paths and in gravelled areas. It can be planted alongside our other creeping thymes to give contrasts of flower colour and foliage texture.

All thymes are perennial and evergreen so you can create a permanent planting, with interest and colour throughout the year, which will be a real centrepiece of colour and a haven for butterflies and bees when these thymes are in flower.