Welsh Onion
Allium fistulosum
Height:
30cm (12in)
Suitable for:
Sunny open position in well drained soil.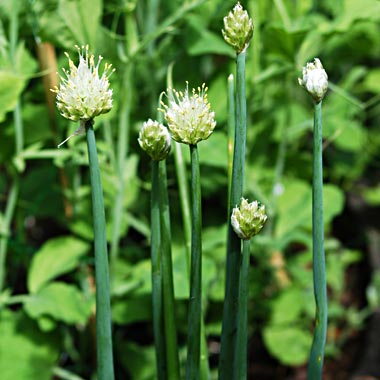 This perennial herb is similar in habit to spring onions, with pencil thick stems and hollow leaves. They are early to start into growth in the spring with juicy foliage ready to be cut by late February. In summer if left uncut they produce bell shaped white flowers.
New Potato and Nut Salad
500 g baby new potatoes
1 celery heart
4 tbs chopped welsh onion
50 g hazelnuts – chopped
1 bag watercress
150 ml mayonnaise mixed with 1tsp paprika
Cook the potatoes until tender, drain and cool. Chop the celery, with its leaves, and add to the potatoes with the mayonnaise mixture, nuts and welsh onions. Season to taste.

Chill the salad, and just before serving transfer to a serving bowl lined with the watercress.
Welsh onions are traditionally used in Chinese medicine against colds and respiratory infections. They are also used for treating frostbite and low yang energy.