Winter Savory
Satureia montana
Height:
30cm (1ft)
Suitable for:
Light dry soil in a sunny position.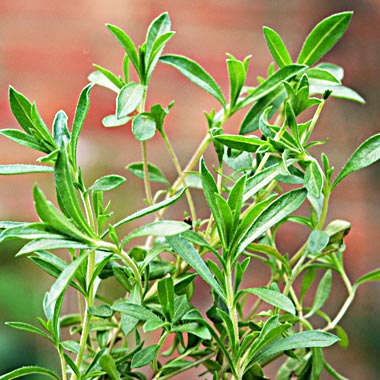 Savory originates in the Mediterranean area, where it appreciates hot sun and dry, poor soils. The flavour is somewhat reminiscent of marjoram but with a spicy, peppery taste as well.
Savory enhances all types of bean dishes. Sprigs maybe added to the water when cooking green or broad beans. The chopped leaves add piquancy to bean salads and they may be added to Indian pulse dishes such as dhal instead of coriander in the winter months, when coriander is not so readily available.
The spicy flavour combines well in sausages and stuffings, and the chopped leaves are great if added to tomato sauces in place of basil and oregano.
The pepperyness is also good in sweet dishes such as fruit jellies and with berry fruits, however they should be used with caution so that the flavour does not overpower.
Medicinally savory is said to improve digestion and also ease sore throats and bronchial troubles. The crushed leaves will alleviate the itching of bites and stings.

Avoid during pregnancy.