Wood S‍age (Woodland G‍ermander)
Teucrium scorodonia
Height:
30 cm (up to 60cm when in flower)
Suitable for:
Most soils provided they are not waterlogged. Full sun or a little shade.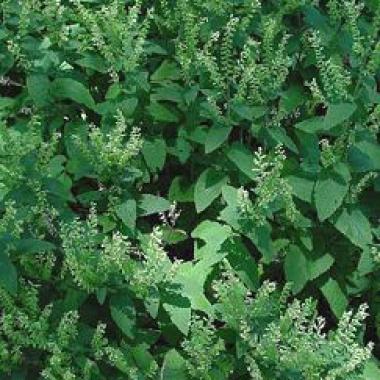 Wood sage is a long lived perennial, happy to grow in most positions except waterlogged soils or total shade. The foliage is pleasantly scented with sage when crushed and it spreads by rhizomes to make a good sized clump.

It flowers from July onwards, this can be extended into autumn with regular deadheading.

The greenish yellow spires of flowers are nectar rich making them very popular with bees and butterflies.

Wood sage combines well in the border, both with the larger culinary herbs like rosemary and sage, and also with flowering perennials. It looks particularly effective planted with flowers of varying shades of yellow and cream, for example Achillea Summer Fruits Yellow, Digitalis Castor Cream and the gold variegated Lamium Gold Anniversary.