Recipe
Fennel bread
Delicious and easy to make, especially if you have bread maker, as so many of us do nowadays.
A plain white bread dough is easy to make either by hand or in your bread maker. Use the recipe in your bread maker booklet or one from your favourite home baking cookbook.
To the bread dough ingredients just add the following at the beginning of the recipe.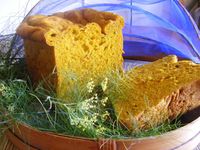 1 large peeled carrot - grated
20 g fennel seeds
15 g turmeric powder
40 g sugar - instead of the quantity in your bread recipe
Bear in mind that turmeric does stain so try not to spill any and,
if kneading by hand, it might be worth using some disposable gloves!
However the extra effort is really worthwhile.

This sounds a lot of fennel and turmeric and I was sceptical before I made the bread, but the fennel and carrot make the bread sweet and aromatic and the turmeric, as well as giving an amazing colour, gives a great depth of flavour to the loaf.

Cool and serve either just with butter or spread with soft cheese.