Talks & Tours at Manor Farm Herbs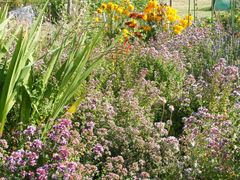 Manor Farm Herbs will be pleased to provide your club or society with a venue for one of your summer meetings.
We are a wholesale herb farm not usually open to the public, and grow over 250 different types of herbs throughout the season, selling potted herbs to garden centres, nurseries, landscapers etc throughout four counties. Our wholesale range of herbs, not available by mail order, is far more extensive than the range shown online.
In addition we have a website for retail sales to the public, shipping herbs throughout the UK, and indeed Europe.
A visit can be tailored to the particular interests of your members. Usually we give a talk/demonstration about all aspects of herb growing and uses in the walled garden of the house, followed by a tour of the nursery growing areas where the group can see the herbs growing en masse. Here they can smell, taste and ask as many questions as they like, and are welcome to buy as well. To round off the visit we can provide coffee and herby refreshments if you wish.
The lecture fee is £35.00, if you require refreshments afterwards a charge per head is the simplest method - £4.50 per person.
Manor Farm Herbs are based in Fringford, which is just off the Bicester to Buckingham road, and is about 10 minutes from the M40 junction 10. We can cater for parties of up to 35, and can talk on specific subjects i.e., culinary uses, garden design and plantings, or on herb growing and uses in general. Visits can be arranged for daytime or evenings during the summer months, generally from June to August.
In addition your group maybe interested to know that Fringford is the model for Candleford in Flora Thompson's books and the recent TV series. A leaflet can be found online or in our local church with a tour of the village - the Flora Thompson Trail.
If you would like more details please give us a call, daytime or evenings on: 0780 308 2408. Alternatively an email will be fine at: manorfarmherbs@aol.com.