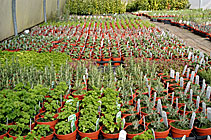 MANOR FARM HERBS are specialist herb growers
situated in North Oxfordshire.
We supply an immense range of herbs to garden centres, shops, landscapers and stately homes throughout four counties.
Our website is an opportunity for you to buy healthy herbs directly from a professional grower.
Autumn Herbs
Autumn is the ideal time for planting — the soil is warm and moist
and your new additions get off to a flying start before winter arrives.
Rosemary Blue Lagoon
Looking especially good the moment to brighten up your containers are:
All of the thymes — especially the gold and silver leaf varieties.
Rosemary – some like Blue Lagoon are starting to flower.
Cotton lavenders — with great coloured foliage silver, gold or brilliant green.
Helianthemum 'Ben Ledi'
Try mixing your herbs with some of our new flowering perennials:
Subscribe to our newsletter for the latest updates and recipes,
and to be the first to hear about the new herbs planned for 2018.
Creeping thyme collection
Now ready for planting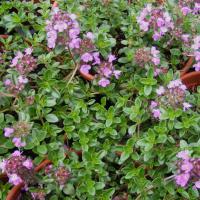 Thyme Prostratus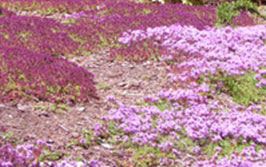 Lawn of Thymes
A comprehensive collection of
Creeping Thymes
is now available.
To find out more about these thymes either
click on
Special Collections
or
Tarragon and Thymes
.