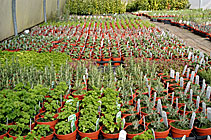 MANOR FARM HERBS are specialist herb growers
situated in North Oxfordshire.
We supply an immense range of herbs to garden centres, shops, landscapers and stately homes throughout four counties.
Our website is an opportunity for you to buy healthy herbs directly from a professional grower.
New Herbs for 2016
Thinking about Christmas Herbs make lovely Christmas gifts

Thyme 'Silver Posie'



These are guaranteed to be popular with friends and family alike: an ideal present for someone who has everything, or a friend who lives a long way away. Herb plants also a great gift to take when you go visiting or to a party, much longer lasting than flowers or a bottle of wine.
You may choose one of our special collections or make a selection of your own. Your friend may like to choose their own herbs – select one of our gift vouchers - we will do the rest!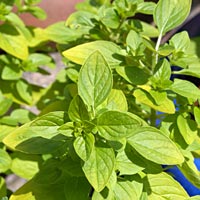 Golden Marjoram
Culinary selections are always popular at this time of year and the gold and silver herbs, like Golden Marjoram and Silver Posie thyme, will add a splash of seasonal colour to your gift.
No wrapping and struggling to queue at the Post Office: we will despatch your gifts for you in plenty of time for them to be delivered for Christmas. Let us have the delivery address and approximate date when you go through checkout, and a message to go in the card which will accompany your gift.
Creeping thyme collection
now ready for planting
A comprehensive collection of Creeping Thymes is now ready for you to buy. To find out more about these thymes either click on Special Collections or Tarragon and Thymes.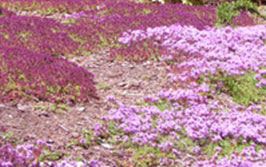 Lawn of Thymes
Creeping thymes like a dry sunny position and are ideal for growing in gravel areas and rockeries, between paving stones and for planting thyme paths and lawns. They withstand walking on and are totally hardy.
Check out our article Prostrate herbs for cracks and crevices, walls and paths for more details.
We have selected a range of thymes with red, pink and white flowers and also a variety of leaf types and colours to give you as wide a choice as possible for planting to suit your garden design.
Subscribe to our newsletter for the latest updates and recipes, and to be the first
to hear about the new herbs planned for 2017.