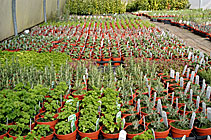 MANOR FARM HERBS are specialist herb growers
situated in North Oxfordshire.
We supply an immense range of herbs to garden centres, shops, landscapers and stately homes throughout four counties.
Our website is an opportunity for you to buy healthy herbs directly from a professional grower.
New for 2015
Culinary herbs with added colour!
Try planting up colourful versions of common green herbs
– colour in your garden and lots of flavour for the kitchen.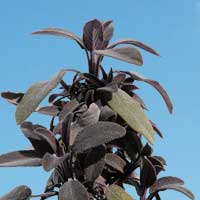 Purple Sage
Purple Sage – just as useful as the green variety but with deep purple foliage - contrasts well planted with tall and airy bronze fennel plants.
Purple Shiso now available for spring and summer planting.
The cream and green leaves of Oregano Country Cream and gold curly marjoram - stunning foliage and a great taste in your cooking.
Add colour to your containers and borders with Thyme Silver Posie and Thyme lemon variegated – silver and gold variegations and just as useful as common thyme.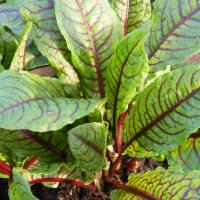 Red veined sorrel
Red veined sorrel – worth growing just for its foliage but a tasty addition to your salads as well.
Fill a gap instantly with our pots of spring flowering sweet violets and yellow cowslips.
Return here for our new herbs and photos as they are ready or subscribe to our newsletter for the latest updates on new herbs and ways to use them.