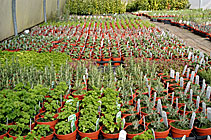 MANOR FARM HERBS are specialist herb growers
situated in North Oxfordshire.
We supply an immense range of herbs to garden centres, shops, landscapers and stately homes throughout four counties.
Our website is an opportunity for you to buy healthy herbs directly from a professional grower.
New for 2015
Autmn Herbs

Lavender Munstead

Alpine Strawberry
Autumn is the ideal time to plant out herbs - the soil is warm and moist and the plants get off to a flying start before winter arrives.
Tidy and define your garden with hedges and edges. Click the link for lots of ideas.
The warm autumn soil is ideal for planting up herbs - perennial hedges of lavender, germander and cotton lavender; or try edible edges of chives, thyme and alpine strawberries.
Creeping thyme collection
Now ready for planting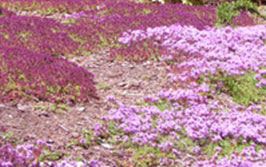 Lawn of Thymes
A comprehensive collection of Creeping Thymes is now ready for you to buy. To find out more about these thymes either click on Special Collections or Tarragon and Thymes.




Subscribe to our autumn newsletter – lots of autumn planting ideas and recipes for all those herbs!