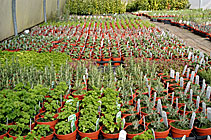 MANOR FARM HERBS are specialist herb growers
situated in North Oxfordshire.
We supply an immense range of herbs to garden centres, shops, landscapers and stately homes throughout four counties.
Our website is an opportunity for you to buy healthy herbs directly from a professional grower.
New herbs
More herbs are growing on and will be available soon.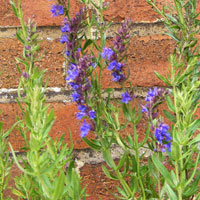 Hyssop
Fill your flower borders with herbs
Has the wet winter left gaps in your borders, or are you planting afresh?
Add some of our brightly coloured herbs for long term colour and use them in your cooking as well.

Plant hyssop for its bright blue flowers, golden marjoram and Oregano Country Cream for their stunning foliage and pink flowers in summer.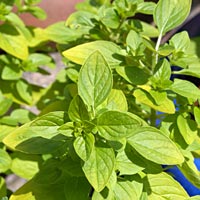 golden marjoram
At the back of the border try tall graceful bronze fennel and fill an gap instantly with our spring flowering cowslips .
As spring turns towards summer try your new herbs in our recipes.

Gold marjoram makes a great addition to Greek Salad and for something more unusual add hyssop leaves to Crunchy Coleslaw Salad .